B. Ashra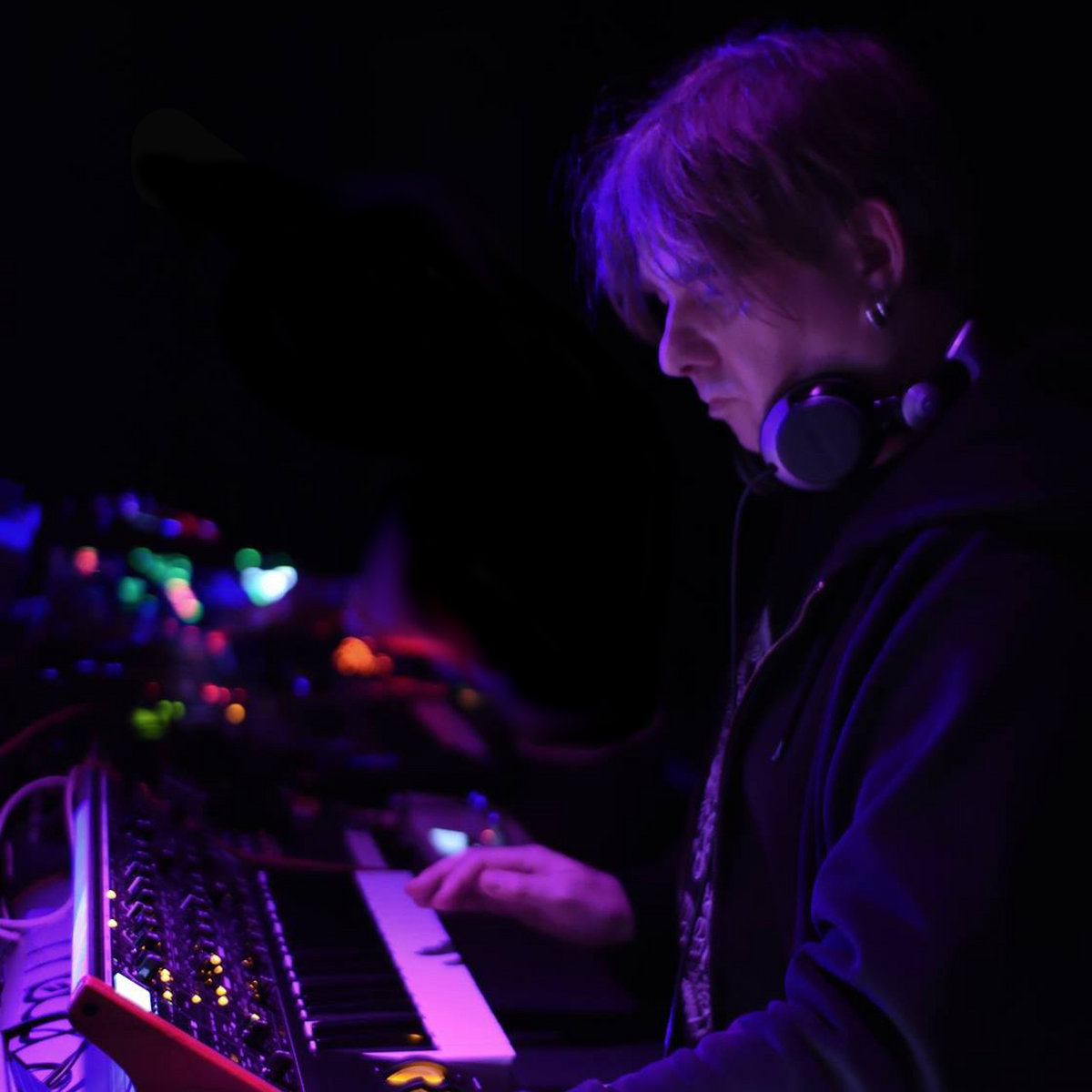 Bio:

Seit 30 Jahren produziert der Berliner B. Ashra mit seinem Solo Projekt elektronische Musik abseits des
Mainstreams. Von meditativer Ambient Musik über Sound-Experimente bis hin zu Acid Techno ist seine
musikalische Spannbreite sehr weit gefechert.
Da dies teilweise zu Verwirrungen führte steht der Name B. Ashra seit Anfang der Zweitausender nur
noch für seine Ambient, Downbeat und experimentellen Produktionen. Sein Faible für Techno/Electro lebt
er seitdem mit seinem Pseudonym Robert Templa aus und für Tech-House, Glitches, sehr experimentelle
und härtere Sounds nennt er sich Hackbert.
Durch etliche Live Konzerte in vielen Clubs, auf Open Air Festivals hat sich B. Ashra mit seinem Solo
Projekt einen Namen in der internationalen elektronischen Musikscene gemacht.
B. Ashra ist in folgenden Bandprojekten aktiv: Cosmic Octave Orchestra, 70db, Brain Entertainment
Laboratory, Morphon, Tohil Mons und Psychotikum.
Er hat mit vielen international bekannten Musikern zusammen in verschiedensten Projekten gearbeitet,
unter anderen mit: Youth (Killing Joke, The Fireman, The Orb etc.), Steve Schroyder (Star Sound Orchestra, Tangerine
Dream etc.), Dr. Walker (Air Liquid), Cem Oral aka Jammin Unit (Air Liquid), Matt Black (Coldcut), Pete (Peter)
Missing, Wolfram Spyra, Rainer Von Vielen, Oriom, Eru, Ricky Deadking, Mijk Van Dijk, Cosmic Baby,
Sheldon Drake, Carsten Thorwald, Daniel Katzenstab, Ümit Han, Steve Baltes, Bob Humit, Der Dritte
Raum, Thomas D, Sigyn M, A.R. Funkhauser, Jewel, MoTom, Rachel Sacks, McMurphy
Remixe für: Anne Clark, Sascha Walter, Oriom, Velcro
Neben seinem Musiker-Dasein ist er Sounddesigner und Mastering Engineer, arbeitet in seinem
Tonstudio: GL Audio in Berlin und managed die beiden Labels: Separated Beats und Klangwirkstoff
Records.
Letzteres hat sich auf die Wirkung direkt aus der Natur abgeleiteter Rhythmen, Resonanzen und
Frequenzen wie Planetentöne und Molekülvertonungen auf Berechnungen der Kosmischen Oktave von
Hans Cousto spezialisiert.
Ausführliche Infos:
www.b-ashra.de
soundcloud: soundcloud.com/b-ashra
bandcamp: b-ashra.bandcamp.com
facebook: facebook.com/beeashra
instagram: instagram.com/b._ashra
discogs: discogs.com/artist/84892-BAshra
www.klangwirkstoff.de
www.separatedbeats.de
Discography:
Alben:
B. Ashra – Fluffy Spirals (Separated Beats 2022)
B. Ashra – Satellites (Separated Beats 2021)
B. Ashra – Jupiter – Saturn Conjunction (Klangwirkstoff Records 2020)
B. Ashra – The Sound Of DMT (A Sonic Ayahuasca Journey) (Klangwirkstoff Records 2020)
B. Ashra – Live for Open Ear Ambient Festival 2020 (Klangwirkstoff Records 2020)
B. Ashra – The Sound Of LSD – 75 Years LSD (Video by Trig Fardust - Klangwirkstoff Records 2019)
B. Ashra – Ticket To The Moon (Klangwirkstoff Records 2018)
B. Ashra – Open The Door (Klangwirkstoff Records 2016)
B. Ashra – Venus Meditation (Klangwirkstoff Records 2016)
B. Ashra – Music For Growing (Klangwirkstoff Records 2014)
B. Ashra – Monks (Separated Beats 2012)
B. Ashra - Psychonautic DJ Mix Giger Museum 08 (Klangwirkstoff Records 2012)
B. Ashra – LSD Tuning (Klangwirkstoff Records 2012)
B. Ashra – Om Meditation (Klangwirkstoff Records 2009)
B. Ashra - Atomic World (Insolation Chilling) 2002
B. Ashra - Spacetime CD 1995 (brainshave delay) 1995
B. Ashra & Eru – Earth Frequencies (Klangwirkstoff Records 2017)
B. Ashra & Ricky Deadking – Alchemical Congress (Separated Beats 2010)
B. Ashra & Ricky Deadking - Live at U-Site Fusion (BTM) 2000
Singles und Remixe:
B. Ashra - Solarium (KW 2021)
B. Ashra - Gas (Ultrablack Music – Mille Plateux 2020)
B. Ashra - Diestelman EP (SB 2019)
B. Ashra - Drop Out (Yellow Sunshine Explosion 2010)
Oriom – Venus Valerian (B. Ashra Remix 2023)
Peter Missing and Hackbert – Redirect (Robert Templa Remix 2021)
Oriom – Mars Minaret (B. Ashra Remix 2021)
Sascha Walter – Glastank (Robert Templa Remix 2011)
Anne Clark – Magic Herb (B. Ashra Remix 2007)
Velcro – Hoy (B. Ashra Remix 2005)
Vinyl:
B. Ashra - Energy (Yeyeh Records 2022)
B. Ashra - Eyes In The Sky (Outer Place Records OP007 2022)
B. Ashra - Velcro Hoy Remix (INEX) 2005
B. Ashra - Diestelman EP (corrosive media) 1999
Filmmusik (B. Ashra):
Der Gründer – Hordes Film 2013
Fastenzeit - Dave Lojek 2009
Bad End - a film by last scream pictures 2006
Der Teufel von Rudow - a film by magicland pictures 2004
Descendant - a film by KGBlue 2000
Robert Templa:
Robert Templa Remix - Redirect (2021 SB)
The Aniversary – Ten Years Eintakt Records (Vinyl 2015)
Sascha Walter – Glastank (Robert Templa Remix 2011)
Robert Templa – Undercover Birds (Diametral Records 2011)
Robert Templa – Tribes EP (Eintakt Records 2009)
Robert Templa – Jet Lag (INEX 2005)
… and a lot of tracks for some Compilations
Hackbert:
Pete Missing / MHabicht / Hackbert – River Of Creative Forms I-III (2022)
Peter Missing and Hackbert: Redirect EP (2021 SB)
Hackbert – Gabba Sunday (Sleepless Rec. 2011)
Hackbert live at Fusion 2003 (Soundcloud)
Hackbert – Electrosmog (Aroma Music 2003)
Hackbert – Yeti (Aroma Music 2002)